SBMI program ranks second in the nation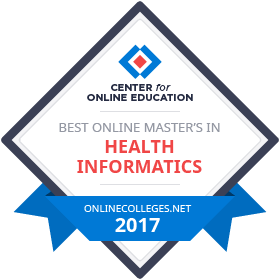 The Center for Online Education recently ranked SBMI's online master's degree as the second best Online Master's in Health Informatics Degree program in the nation.
The basic formula utilized by the Center for Online Education for assessing programs evaluates academic quality, online offerings, and cost and student aid for a final score. The final score determines where a program is placed on the ranking.
"Being the nation's only free-standing program focused on biomedical informatics allows our school to draw in highly qualified and knowledgeable students," stated SBMI Associate Dean for Academic Affairs and Associate Professor Susan Fenton, Ph.D. Fenton also noted, "offering our master's program online gives us the opportunity to attract those same exceptional students from all around the world. I am proud to say that this ranking demonstrates the caliber of our program."
SBMI offers both graduate certificates and a master's degree in biomedical informatics that can be completed entirely online; either part-time or full-time.
To round out the top three programs in the ranking, Stanford University was number one and Northwestern University came in third. For a complete list of programs ranked on the list, visit the Center for Online Education website.
For more information on SBMI offerings, contact SBMIAcademics@uth.tmc.edu or 713-500-3591.
published on 08/22/2017 at 5:22 p.m.